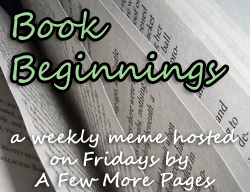 How to participate:
Share the first line (or two) of the book you are currently reading on your blog or in the comments. Include the title and the author so we know what you're reading. Then, if you would like, let us know what your first impressions were based on that first line, and let us know if you liked or did not like the sentence. The link-up will be at
A Few More Pages
every Friday and will be open for the entire week.
,
Witches of East End (The Beauchamp Family)
by Melissa De La Cruz
"North Hampton did not exist on any map, which made locating the small, insular community on the very edge of the Atlantic coast something of a conundrum to outsiders, who were known to wander in by chance only to find it impossible to return; so so that the place, with it's remarkably empty silver-sand beaches, rolling green fields, and imposing, rambling farm houses, became more of a half-remembered dream than a memory." Prologue - The Town At The Edge of Nowhere
My Thoughts: Now if you are like me reading over this first line doesn't really grab you. It is when I get farther into the characters that you start to like this book. This a nice description and all but just doesn't help me get interested in that book. The prologue and chapter titles as grab me as well.