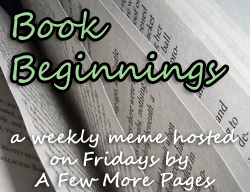 How to participate:
Share the first line (or two) of the book you are currently reading on your blog or in the comments. Include the title and the author so we know what you're reading. Then, if you would like, let us know what your first impressions were based on that first line, and let us know if you liked or did not like the sentence. The link-up will be at
A Few More Pages
every Friday and will be open for the entire week.
"This is not the way to spend a beautiful spring morning! Elena Klovis thought, as she peered aroudn the pile of bandboxes in her arms. They were full of hats, so they weren't particularly heavy--unlike most of her
stepmother's luggage--but they were very awkward to carry. There was a lark serenading the morning somewhere overhead, and Elena wished with all her heart she was him and not herself."
The Fairy Godmother (Five Hundred Kingdoms)
by Mercedes Lackey